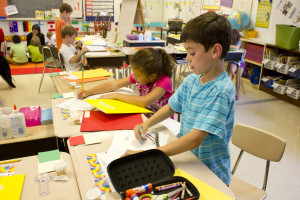 This month, Echo was invited to participate in a webinar hosted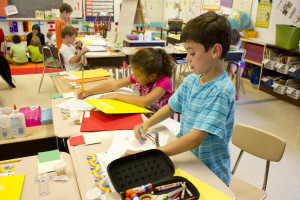 by Region IX Equity Assistance Center at WestEd for educators in the Western Region of the United States. We were honored to be highlighted as a 'promising practice' for trauma-informed education
For those of you who don't have 90 minutes to listen to the whole webinar, we thought we would pick out a few of the delightful stories related by Catherine Daley, the principal of Sally Ride Elementary,  the site of our Whole School Initiative pilot:
"I have a student who frequently gets sent to the office for his behavior. He's usually pretty flooded when he gets to me. Maybe before I might have demanded that he explain himself immediately. Now I'm letting him know he can have time to regulate, to breathe, and I invite him to talk when he's ready. 
"Usually, when he gets to me, he's stuck… he can't move, he's breathing really heavily. I might let him know, I'm here, its okay…you can take your time. And I'll start to see his shoulders relax, his hands unclench, and he starts to look around, like he's coming back into the room. Then we can talk. This seems to give him the catharsis he needs, allows me to understand him better, gives him a chance to go through the emotions he needs to go through. It also gives him a chance to practice using the strategies with support in a place where he knows that he's safe, so that he can do them independently in other situations… Now he's coming to me and telling me, "I walked away Ms. Daley. I breathed, and I didn't hit anybody.  I walked away.""
"A few weeks ago a student was sent to the office because he had called a teacher a strong expletive. In the past, I probably would have told him that it was unacceptable behavior, demanded that he apologize, and then call his mother so that he could explain his actions.  
"This time, I had made a conscious decision that my goal was to repair the relationship between that teacher and the student. I began by inviting the student to talk about what he was feeling before he said what he said, and with that invitation, the student was able to recall what happened before he got angry. 
"After acknowledging his feelings about the interactions that led up to him calling his teacher this word, we talked about what he might want to do to repair the relationship. He kept saying, "I think I should be punished. 
"That was the first time that I realized that for many people, making a reparation in a relationship usually involves a punishment. We talked about what I meant by repair, brought in the teacher, gave them each a chance to hear each other, helping them each to reflect back what they were hearing. 
"At the end of the conversation, both teacher and student were able to acknowledge each others' needs in that situation and make a plan for the future that would allow them both to feel safe while still completing the activity. Since then, I've continued to employ this focus when working with students and have not needed to give any negative consequences in order to create repair in the relationship."
Cathy also shared Freddy's story:
"Every day, Freddy would arrive in the middle of morning meeting, or later, and had a hard time integrating into the class. Previously, his teacher might have just asked the parent, "Do you realize he's been late every day this week?", or, "Why aren't you bringing him on time?" This time, instead of confronting his mom, she took the time to find out what was going on. 
Apparently, Freddy's mom was working two jobs – a day and a night shift.  After getting home every night at 3 or 4 am, she was struggling to get up again a couple hours later to get her kids to school at all. Instead of dismissing Freddy's tardiness as a sign of his mother's failure to support his education, the teacher chose to look deeper and see the incredible lengths his mother is going to in order to meet her family's basic needs and get her kids to school every day. 
Freddy's teacher started to feel more empathy. She was able to explain to the mother why she was worried about Freddy coming in late – that he was missing out on the morning routine and it was having a negative impact on him. The teacher then asked if there was anything she could do to help. In this way, an interaction that could have been confrontational and disconnecting became a point of connection and support for both the mother and the teacher.
We hope you enjoyed these encouraging stories of a school community on the journey to become trauma-informed and nonviolent. We thank Ariel Wrye, our lead trainer at Sally Ride, and Cathy Daley for their commitment to this work and for compiling the stories and other information for the webinar. We would like to thank you too for continuing to support our efforts and wish you and your family a very Happy Thanksgiving!