at The California Endowment 1000 N. Alameda St, Los Angeles CA 90012
The Echo conference is known for shining a light on new developments in the trauma field, and this time was no different.
 This year, instead of an audience of service providers, our "And Still We Rise: Survivors Becoming Empowered" conference was made for survivors, led by survivors, and focused on survivors.
From the get-go, we celebrated survivor resilience and empowerment with a reading of Maya Angelou's "And Still I Rise" by Lili Bernard, and with an opening keynote by Echo executive director, Louise Godbold.
"This has been one of the best conferences I've been to regarding trauma! Truly "walking the walk" not just talking the talk"
(Participant)
Louise discussed Echo's work and why we decided to make this conference a celebration of the power and voice we have individually and as a community of survivors.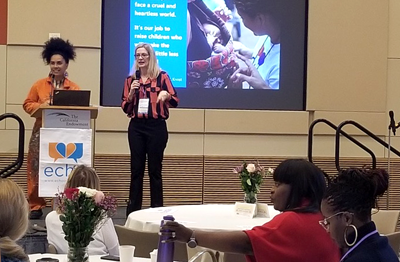 In the afternoon, our workshops were filled with survivor wisdom and skills. Karen Gonzalez's "Parenting After Trauma" workshop helped us recognize our traumas and strategies for when they impact our daily lives. Other workshops (such as our "Silent No More Anti-Rape Art Therapy" workshop and "Break Free & Build Your Dreams" workshop) explored creative vehicles of support and empowerment, encouraging participants to use their passions to help heal both themselves and society.
Day one ended with long-time advocate Mónica Ramírez. She educated us on what disclosing sexual violence means for migrant women and other low paid workers, and taught us the ways in which our communities can help support survivors.
"Inspiring, educational, & moving" (Participant)
Day two opened up with a survivor song by Lizette Martinez, and an inspiring story of one survivor's journey in challenging/changing the system by Alison Turkos.
In the afternoon, we came together to create an art piece to celebrate our collective voices with the guidance of survivor activist Tania Culver Humphrey (#AidToo), and participated in listening circles to give space to the individual voices of all trauma survivors in attendance.
We concluded the conference with Dr. Erica Holmes, identifying and processing our relational behaviors to help us reconstruct healthier relationships moving forward.
"Your team was so welcoming and caring and so authentic – you each had time for individuals in this community,
and there was a true feeling of camaraderie… I truly appreciated the experience. "
(Participant)
Sad that you missed it? Don't worry – check out the videos of our conference
below, and save March 17-18, 2021 in your calendars for our conference next year!
The Echo Team would like to thank all our speakers and participants for making the 2020 conference such a success!