VIRTUAL: Trauma-Informed Yoga for Kids
Wednesday, November 9th, 2022 | 8 am to 12:30 pm PST
Event Navigation
As we prepare for post-pandemic life, it is normal to experience de-regulation as a result of long periods of stress or trauma.
Understanding this, and how little bodies register and retain trauma physically and physiologically, holds the key to understanding how small ones can be their happiest and most fulfilled selves. Through an evidence-based approach to self-regulation, we can help support young ones to release trauma and maintain physical, mental and physiological health.
In this presentation, we will learn an introduction to the science of trauma and Yoga (and mindfulness) techniques and methodology to release residual trauma among kids of all ages.
Details
Dates: Wednesday, November 9th, 2022 | 8am-12:30pm PST
Cost: $55
Location: Live training via Zoom. Zoom link and extra details will be sent out a week prior to the training date.
Continuing Education: 4 CE credits are available for an additional $30. For more information visit our continuing education page.
Cancellation fees may apply; be sure to review our refund policies here.
For questions about this training, please contact us at training@echotraining.org or (213) 484-6676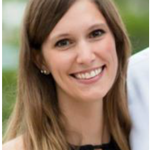 Amy Osborne
Program Associate, Graduate Yoga Studies at Loyola Marymount University
Founder / CEO of In Yoga Collective
Former Owner / Strategic Director of North Port Yoga + Wellness
Amy Osborne is a 2016 graduate of Loyola Marymount University's (LMU) Master of Arts in Yoga Studies program. Prior to attending graduate school, Amy completed her B.A. in Communication Studies at Northeastern University and worked for six years in government and public affairs in Boston and Los Angeles. She advocated for foster care and health care reform, solar and wind energy, among other issues at the state and regional level. Amy completed her 200 RYT teacher training at Liberation Yoga in Mid-City, Los Angeles in 2014 and has been a regular home practitioner since 2010.
Amy's training and research is focused on Trauma Informed Mindfulness. Her first experiences as an instructor included teaching in a women's county jail and community center where she developed ongoing programs in greater Los Angeles. Following graduate school, Amy moved to Southwest Florida and took on ownership of the local yoga studio, North Port Yoga, now North Port Yoga + Wellness (NPYW). Amy designed 200 and 300 Yoga Alliance Teacher Training programs, graduating 22+ instructors, who serve 11+ offsite locations in addition to 30+ weekly classes for clients at the studio. In 2019, Amy launched In Yoga Collective which caters to corporate and clinical wellness clients offering comprehensive program development, teacher training, retreats, and strategic consulting services. Her goal is to broadly educate on the benefits of Yoga and mindfulness, and increase access to yoga and wellness services.
Amy is a past contributor to Headspace's The Orange Dot blog (including, "Why we should teach meditation in prison"), and published her thesis, "A Year in Yoga: Science and Practice of Trauma-Informed Mindfulness" in Fall 2016. She created and instructs a 20+ hour Yoga Alliance certified intensive course on Trauma Conscious Yoga for studios, social workers and school districts throughout the country.
Amy currently resides in Los Angeles, employed by Loyola Marymount University where she provides day to day oversight of the Master of Arts in Yoga Studies program, including: development, administration, and supervision of LMU's Graduate Yoga Studies and Yoga Therapy programs. Amy formerly owned and served as Strategic Director of North Port Yoga + Wellness in SWFL. Amy continues to host workshops and trainings in Los Angeles and Southwest Florida, in addition to managing a team of instructors for a trauma-informed neurological clinical client in Sarasota, FL.
*Graduate of Masters of Arts in Yoga Studies from Loyola Marymount University (LMU), May 2016
*Experienced Registered Yoga Teacher (E-RYT), Yoga Alliance Continuing Education Provider (YACEP)