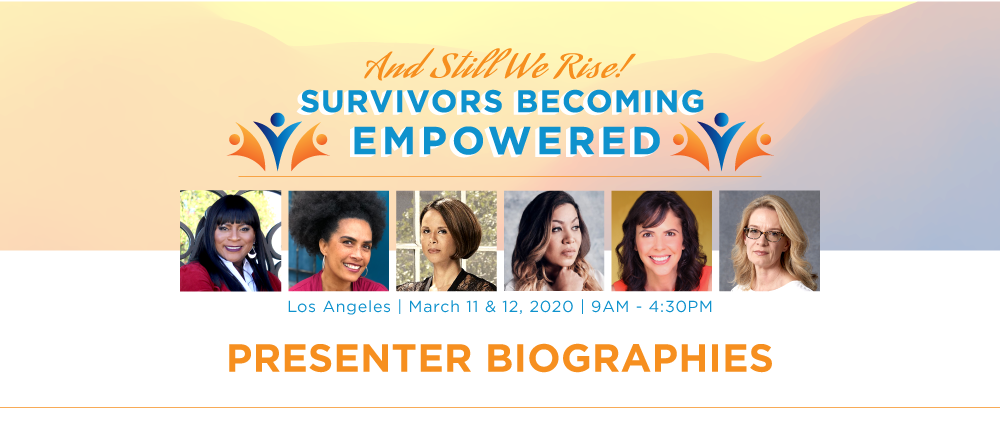 Louise Godbold | Echo Executive Director
Before her career in human services, Louise worked in commercials production in Europe, then moved to Hollywood in 1991 and joined Propaganda Films. After becoming disenchanted with the entertainment industry (Harvey Weinstein had a lot to do with that!) she worked in a homeless shelter and then as an outreach worker for an HIV prevention program in South LA. Later, she was retained by UC Berkeley to provide statewide technical assistance for alcohol and drug programs. In the 10 years before joining Echo, she worked with foundations, local government and innumerable nonprofits, providing assistance with strategic planning and program evaluation.
During her 10 year career with Echo, Louise has grown the agency to become a thought-leader in survivor empowerment and trauma-informed practice. She created Echo's trauma and resilience curricula and the infographics that now have worldwide distribution. Since coming forward in October 2017 about Weinstein, Louise has conducted trainings for sexual assault survivors and silence breakers in the entertainment industry and given TV and press interviews internationally on the topic of trauma and resilience. She is now working on a 'Do No Harm' series of workshops to shift toxic workplace culture.
Gender Violence & Women of Color
Sil Lai Abrams is a National Association of Black Journalists (NABJ) award-winning writer, inspirational speaker, and anti-domestic violence activist. Her passionate belief in the transformative power of greater self-awareness and personal accountability is the motivating force behind her work to help end violence against women and girls.
Sil Lai is the founder of Truth In Reality, a media advocacy organization committed to changing the way that women of color and violence are portrayed in the media. Through digital advocacy, public awareness campaigns and educational programs she aims to change society's acceptance of relational violence and ultimately reduce its incidence in the Black community.
Sil Lai has provided commentary on ABC, CNN, MSNBC, Al Jazeera, FOX, BET, Court TV, and TruTV on relationships, sexual violence, media representation, and domestic violence, and been featured in national magazines such as Modern Woman, Oprah, Redbook, EBONY, Black Enterprise, and ESSENCE. Her inspirational life story and practical spiritually-based advice has helped Sil Lai become a highly sought after public speaker and workshop facilitator, with the Federal Bureau of Investigation, the National Medical Association, Harvard University, and Dress for Success being just a few of the distinguished organizations that have used her speaking services. She has also been featured in Pine-Sol's "Powerful Difference" campaign, a national cause marketing effort that celebrates women making a positive difference in their communities.
Sil Lai is an active supporter of organizations that combat domestic violence and has served on the Board of Directors for both Safe Horizon and the National Domestic Violence Hotline.
Dating & Intimacy After Trauma
Erica Holmes, PsyD is Core Faculty and the Director of the Psychological Trauma Studies Specialization in the Master's in Psychology program at Antioch University Los Angeles and Executive Director of Champion Counseling Center at Faithful Central Bible Church and the founder of HOMMs Consulting. Since 2001, Dr. Holmes has provided psychotherapy and counseling, training and consultation, education and research services to individuals and organizations for over 20 year.
Dr. Holmes is a frequent invited speaker at local, national and international conferences and events. Her areas of inquiry and more than 150 presentations focus on psychological trauma, relationships and coupling, insight and empowerment, psychotherapy with African American clients and the integration of Christianity and Psychology.
Her recently released book, Dating with Purpose: A Single Woman's Guide to Escaping No Man's Land has been met with great enthusiasm and positive reviews.
She holds a Bachelor of Science degree in Sociology with a minor in Behavioral Science from California State University Dominguez Hills, as well as, a Master's degree and Doctorate in Clinical Psychology from the California School of Professional Psychology. Further, Dr. Holmes holds post graduate certifications in the Psychology of Trauma from Antioch University and Diversity and Inclusion from Cornell University. She is an American Psychological Association Minority Fellow and past board member for the Los Angeles chapter of the Association of Black Psychologist.
Art Therapy
Lili Bernard is a Cuban-born, Los Angeles-based interdisciplinary artist of mixed African, Caribbean, European and Chinese descent. Her work examines issues of sexism, racism and trauma. A mother of six whom she birthed in a ten-year span, Lili is an award-winning exhibiting fine artist, actor, published writer, independent curator, educator, community organizer, public speaker and founder of BAILA: Black Artists in Los Angeles.
Raised predominantly in Princeton, Jct., New Jersey, and a  graduate of The American School in Japan where she spent 11th and 12th grade, Lili attended Cornell University and The City University of New York, earning a B.A. in German. She received her MFA in Visual Arts/Public Practice from Otis College of Art and Design.
In the fine arts, Lili's numerous credits include a 2017 solo exhibition at Museum of African Diaspora and favorable reviews in a multitude of mainstream art periodicals, including ARTnews Magazine. As an actor who has performed extensively in NYC Off-Broadway theatre, on television Lili starred in the BBC film Murder in Oakland, co-starred in Stephen King's Golden Years, and guest-starred on Seinfeld and The Cosby Show.
A Cosby survivor-turned public-figure antirape activist, Lili influenced the abolishment of the statute of limitations on rape prosecution in California with her #EndRapeSOL peers, as well as the gubernatorial signing of three #MeToo bills on employment sexual harassment and assault. Currently, she serves as co-chair of #ERAnow.
Theater for Trauma Recovery
Tasha Dixon is a latinx bicoastal actress, filmmaker, and artivist. She was the first woman who publicly came out on CNN Live to share her experience of Trump's abuse of power toward women in the Miss USA competition she was in. Tasha then turned her trauma into art and collaborated with This Is Us producer/writer, Julia Brownell, to turn her MeToo experience into an off-Broadway hit she starred in at Joe's Pub at the Public Theater in NYC. She then helped bring it to LA and co-produced, directed, and starred in the Hollywood pop version as well that raised money for TIMES UP and We the Women Collective.
Tasha currently is reprising her role in the latinx Diary of Anne Frank, and recently was an LA Weekly top pick for reprising her role from off-Broadway. Tasha is a professional improv comic who's worked with legends TOMMY CHONG, WILLIAM SHATNER, and more. Next, she will share the screen with David Arquette.
Previously Dixon won the titles Miss Arizona USA and Miss Hispanic Arizona USA. She has a bachelor in interdisciplinary arts from Arizona State. and went to school on a Full Bright scholarship. She strives to bring humanity to stories of people that are overlooked, misunderstood or left behind. Her mission is to make sure everyone knows YOUR VOICE MATTERS and empower others to share their truth,
Trauma-Informed Mindfulness
Laurie Cousins is a mindfulness-based teacher, integrative holistic practitioner, and an Echo trauma-informed nonviolent parent educator. Her education includes training and certification through the mindful centers of UCLA & UCSD.
Laurie enjoys being a lead teacher for Susan Kaiser Greenland's Inner Kids curriculum and brings secular mindfulness into education for students, parents, and faculties throughout the Los Angeles area.
As a trauma survivor herself, she suffered on and off for years until she learned how to manage her traumatic stress through somatic and trauma-informed therapies. Laurie is passionate about helping youth, adults, women, and families to overcome adversity, find recovery in addiction and trauma, and embrace their innate resiliency. For more information please visit: www.healingwithmindfulness.com
Lizette Martinez was a naive 17-year-old the first time she met R. Kelly in a Miami mall. She was walking with her best friend, when his security guard handed her a folded up phone number that changed her life forever. The second time Lizzette's life changed forever, was when she participated in the Emmy nominated documentary "Surviving R. Kelly". Suddenly, everyone knew her name, and her story and she needed to use that to do good in the world!
Currently living and working in Los Angeles, Lizzette now dedicates a large part of her time helping other survivors of abuse. She wears many hats, from being a mother of two to an activist and author. She hopes to use her story to help others come forward, and to help bring support & resources to survivors everywhere!
Caitlin Dulany is an actress who has been in numerous productions, including the Warner Brothers film 'Project X' and television shows 'Criminal Minds' and 'ER'. She is featured in the Official 2019 Sundance Festival Selection Documentary "Untouchable" on Hulu about the Harvey Weinstein scandal.
Since speaking out against Harvey Weinstein in 2017, she has become a passionate advocate for change in the area of sexual assault and harassment within the entertainment industry and beyond. In 2018, she founded Voices in Action, alongside actress and survivor, Jessica Barth. Voices in Action is an accessible and safe space to report incidents of assault online, whose mission is to empower victims, and to promote equality, inclusion, and accountability.
Caitlin is also a member of the Time's Up Entertainment Safety Working Committee, which works to create and set safety standards in the entertainment industry, as well as for survivor support. The group was instrumental in Sag-Aftra's plans to create standardized guidelines for on-set Intimacy Coordinators.
In the fall of 2019, Caitlin served as a Delegate for the Sag-Aftra National Convention, where she championed the passing of a number of resolutions that protect survivors of sexual misconduct and provide training for the prevention of harassment on sets.
She is currently the Vice-Chair of the Los Angleles Sag-Aftra Committee on Sexual Harassment. Caitlin has also collaborated with Equal Rights Advocates to help pass important legislation that strengthened sexual harassment protections for working people across California. She is proud to call herself a Silence Breaker and to lend her voice and experience to the important issues the #MeToo movement has shined a light on.
Jessica Barth | Actress, Activist, Writer, Voices in Action, Founder & CEO
Jessica Barth is an actress best known for her breakout leading role in the hilarious Ted movie franchise.  She began her career in the Philadelphia Theatre scene as a young girl which led her to a prestigious apprenticeship at Vassar College in association with New York Stage and Film. It was there that she honed her craft before deciding to head to Los Angeles to pursue a career in television and film.
During her years in LA, she has appeared and starred in numerous plays, commercials, television shows and films.  Jessica graduated with a degree in Theatre and Creative Writing and has enjoyed writing short films, plays and screenplays.
As a #MeToo activist, she founded Voices in Action, a non-profit initiative empowering victims to use their voice. VIA's report, support, match, connect & protect is the only of its kind offering a platform to document sexual misconduct and track serial perpetrators with the ability to connect under privilege & confidentiality.
Jessica has always been hugely passionate about advocating for young women and has worked for years with foster care youth, teaching female empowerment through art.
Jessica is thrilled to be a part of this global movement in an effort to further the conversation about the abuse of power and gender inequality not only in the entertainment industry but in industries world wide.
Jessica will direct her first feature film in 2020 and is also working on a book of essays encapsulating her journey within the #MeToo movement and beyond.