at The California Endowment 1000 N. Alameda St, Los Angeles CA 90012
Echo has been banging the drum for some time now about trauma and how it gets stored in our bodies. We uphold the work of people like Dr. Peter Levine, Dr. Bessel van der Kolk and other researchers who have concluded that talk therapy alone is not enough to release and overwrite the disruptive patterns trauma creates in our bodies.
The theme of our 2019 annual conference was 'Trauma Recovery: Community Evidenced Practices', and participants were able to explore a variety of traditional as well as more recently discovered practices for healing trauma.
From the get-go, we celebrated survivor resilience and survivor empowermentwith a screening of the music video "Don't Silence Me".
"This has been one of the best conferences I've been to regarding trauma! Truly "walking the walk" not just talking the talk"
(Participant)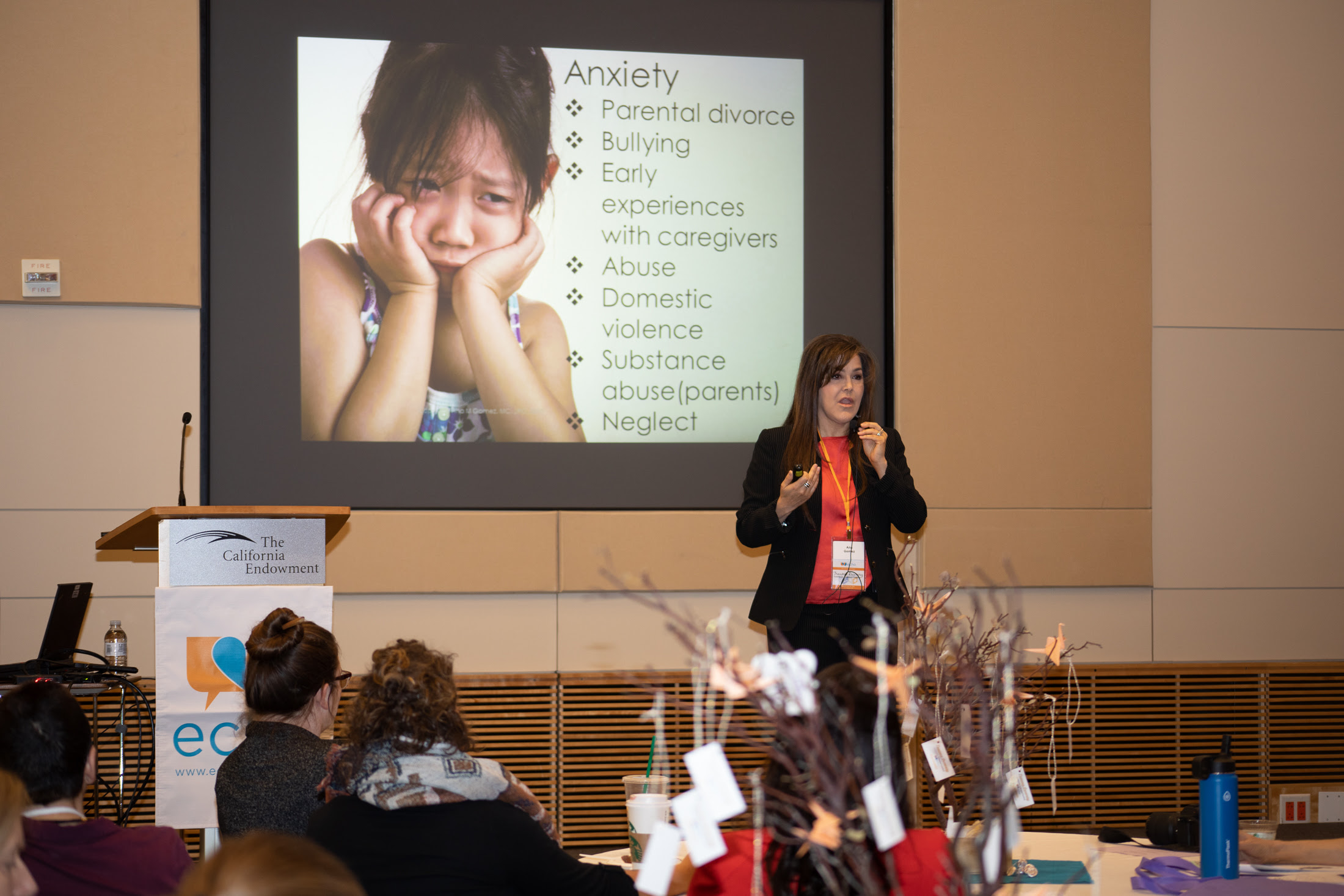 Ana Gomez was our opening keynote. She specializes in EMDR for children and is bringing this trauma recovery modality to her native South America.
We closed the day with Dr. Pico who talked about the genocide of Native Americans and how indigenous wisdom helped him find healing from historical trauma.
"Inspiring, educational, & moving" (Participant)
Day two opened with Carol Kelson who taught us about neurofeedback. We also learned about EFT (tapping) from Victor Lee Lewis and gut health from Echo board member Renaldo Wilson.
Some of the most moving moments were in Laura Som's workshop on connecting to the earth – a story about recovery from life under the Khmer Rouge in Cambodia. The breakouts also showcased two of Echo's upcoming trainings – Yoga for Trauma Recovery with Viviana Valin and Havening with Dr. Kate Truitt.
Overall, the conference participants rated the two-day experience at 94%.
"Your team was so welcoming and caring and so authentic – you each had time for individuals in this community,
and there was a true feeling of camaraderie… I truly appreciated the experience. "
(Participant)
Sad that you missed it? Don't worry – check out the videos of our conference
below, and save March 11-12, 2020 in your calendars for our conference next year!
The Echo Team would like to thank all our speakers and participants for making the 2019 conference such a success!